Thread Rating:
[GET][LATEST] RJ-Capture 4.3.5.0
09-11-2016, 02:28 AM,
(This post was last modified: 09-11-2016, 02:34 AM by Whisky.)
Whisky
(Super Moderator)


-





Posts: 3,251
Threads: 2,517
Joined: Aug 2016
Reputation: 717
[GET][LATEST] RJ-Capture 4.3.5.0
Name :

RJ-Capture



Version :

4.3.50



OS :

Windows



Type :

yellow pages Scraper



Price :

$300


Capture the yellow pages in Europe, United States and Canada.
RJ-Capture is an extractor software of yellowpages.ca (CANADA),superpages.com (USA),pagesjaunes.fr (France), pagespro.com (France), pagesdor.be (Belgium), local.ch (Swiss), paginasamarillas.es (Spain), paginegialle.it (Italy). RJ-Capture capture and export easyly adress, mail, tel, fax, web sites to several file type with activity and one or lot of region. RJ-Capture is useful for a mailing, phoning, fax-mailing or an emailing advertising campaign.
Features
Names of companies


Complete Mailing Addresses (Street - Postal Code - City)


Phone Numbers (Fixed - Mobile - With special tarification...)


Fax numbers


Email Addresses


Business Websites


Business activities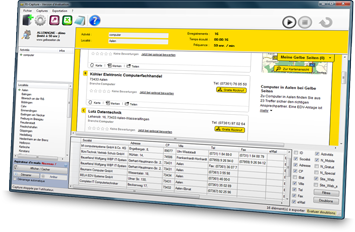 07-13-2017, 06:56 AM,
elishar
(Elite VIP Member)


-





Posts: 114
Threads: 2
Joined: Apr 2017
Reputation: 2
[GET][LATEST] RE: RJ-Capture 4.3.5.0
...............................................................

Users browsing this thread:
1 Guest(s)