Thread Rating:
[UPDATE] TweetAttacksPro III Elite 6.3.1
08-09-2016, 12:52 AM,
(This post was last modified: 04-23-2017, 07:33 AM by Whisky.)
Whisky
(Super Moderator)


-





Posts: 3,251
Threads: 2,517
Joined: Aug 2016
Reputation: 717
[UPDATE] TweetAttacksPro III Elite 6.3.1
Name :

TweetAttacksPro III



Version :

Unlimited accounts Elite Version 6.3.1


OS :

Windows



Type :

Twitter Marketing Bot



Price :

$297



Homepage :

SalePage


The best twitter tool on the market!
TweetAttacksPro 3 is designed to run thousands of twitter accounts at the same time 24/7 to auto-follow, unfollow, follow back, tweet, retweet, reply, favorite, and send messages to your new followers ..etc. Every account can have its own settings thus preventing twitter from becoming suspicious about the account, plus the software can simulate human operation perfectly!
Features
Account Manager : Manage thousands of accounts and categories easily.


Account Filter : Displays a list of following and followers of your account, and tells you which accounts you should unfollow, then unfollows them automatically.


Basic Task Settings : Task black/white list settings, Desktop or mobile site selection and task run interval time etc...


Auto Follow Task : Auto follow people by searching keywords, importing lists, others peoples' followers..etc


Auto Follow Back Task : Auto follow the people who follow you.


Auto Unfollow Task : Auto unfollow people randomly or only unfollow the ones who don't follow you. There are many options you can select.


Auto Tweet Task : Auto Tweet message in a list, txt file, rss etc...


Auto Retweet Task : Auto Retweet others' tweets by searching keywords, or by watching someone's tweet list.


Auto Reply Task : This can watch tweets realtime based on your keywords and reply to them instantly. You also can search tweets to reply in a batch and you can set one reply message for the whole task, or set a different reply message for every account.


Auto Favorite Task : Search keywords to find tweets to favorite, or watch other peoples' tweets and favorite them in real time. This makes your account look active and gives your account more chance to get followed.


Auto Send Message Task : Send messages to all your followers, or randomly send to some people, or send a message to new followers...etc.


Advanced Task Settings : Set some advanced functions like auto-shift proxy when the current proxy has a problem, stop running a task when there is a network problem, etc...


Message Manager : Add/edit/manage your frequently-used messages, tweets, comments etc. ...You can manage them by category and import/use them in your task(s).


SpinnerChief API Support : Spin your content to unique new content automatically.


Proxy Support : Every account can use a different proxy to protect your account from being banned.


Multi-Thread Support : Run thousands of accounts at the same time with multi-threads.


Auto Captcha Support : Auto-Solving Captcha when there is a captcha needed.


Auto Url Shorten Support : Auto shorten the url in your tweet, message, etc...


Run tasks 24/7


Tweet Pictures : We can tweet images now, not just text.


Send Message with Image : We can send message plus image now too.


Global Black list Support : Set a global black list for follow, unfollow, retweet, reply, favorite and direct message functions. Then all tasks will use the black list when working.


Auto Data Backup and Resume : Auto backup your data when the program is running. If your data is accidentally destroyed, you can resume it very easily.


Much much more are not listed here......


- Unlimited accounts -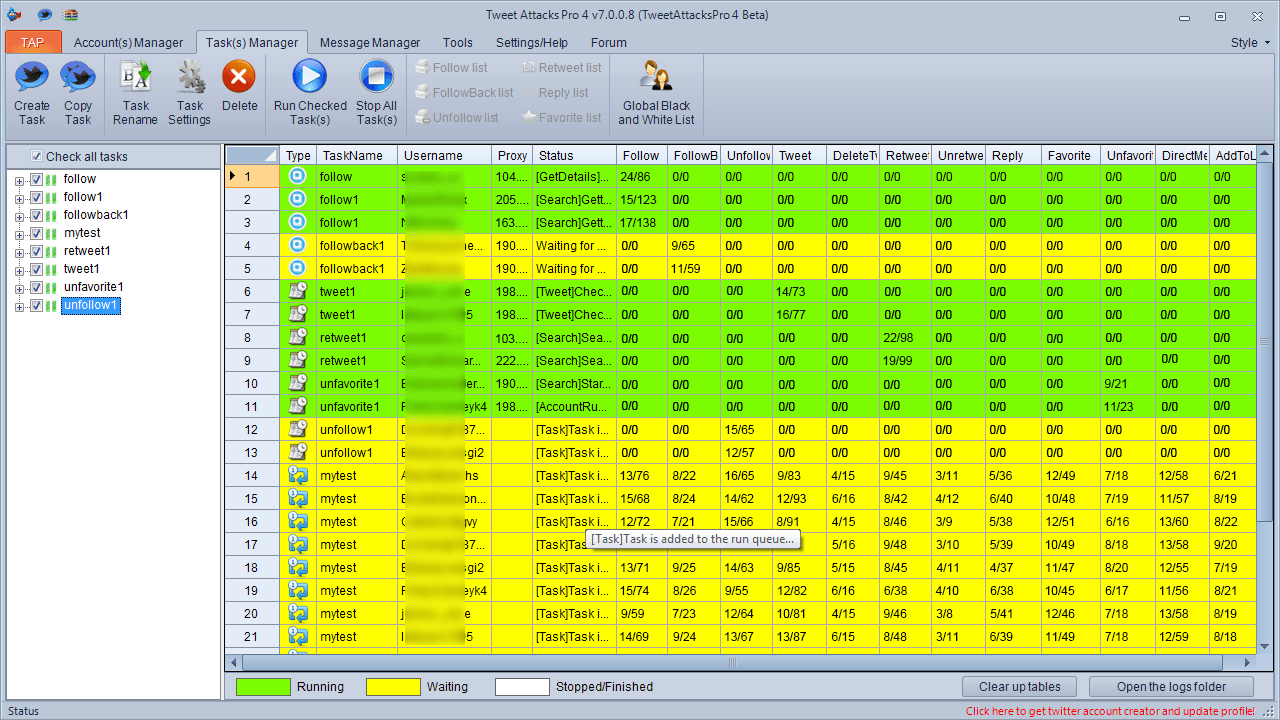 10-16-2016, 01:50 AM,
Whisky
(Super Moderator)


-





Posts: 3,251
Threads: 2,517
Joined: Aug 2016
Reputation: 717
[UPDATE] RE: TweetAttacksPro III Elite 6.2.2.0
12-11-2016, 03:52 PM,
Whisky
(Super Moderator)


-





Posts: 3,251
Threads: 2,517
Joined: Aug 2016
Reputation: 717
[UPDATE] RE: TweetAttacksPro III Elite 6.2.3.0
04-03-2017, 01:54 PM,
Whisky
(Super Moderator)


-





Posts: 3,251
Threads: 2,517
Joined: Aug 2016
Reputation: 717
[UPDATE] RE: TweetAttacksPro III Elite 6.2.8.0
04-28-2017, 10:32 PM,
inimedanbung
(Elite VIP Member)


-





Posts: 224
Threads: 2
Joined: Nov 2016
Reputation: 0
[UPDATE] RE: TweetAttacksPro III Elite 6.3.1
will try it first, thx

10-18-2017, 03:27 AM,
lynecker
(Elite VIP Member)


-





Posts: 54
Threads: 0
Joined: Aug 2017
Reputation: 0
[UPDATE] RE: TweetAttacksPro III Elite 6.3.1
thanks... i try this tools

Users browsing this thread:
1 Guest(s)